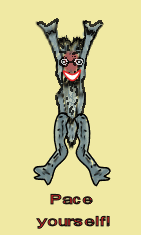 Good morning,
I made this gif using my Wacom Graphire tablet and pen. He's not perfect, but it was a fun exercise.
It's a reminder that the week is still young, so "pace yourself". It's something I've been telling myself, and I heard the same thing from Amy, my co-worker, basically say the same thing as I left work last night. (Hi Amy!)
Some of us have been working a lot of overtime lately, and I've been cutting back. The one thing I hear over and over is, "The work will always be here." And it's true.
So take it easy today. We still have today and three more to get whatever done we have to get done.
Make it a good week.
I'll be back tomorrow!